Mobile Hot Spots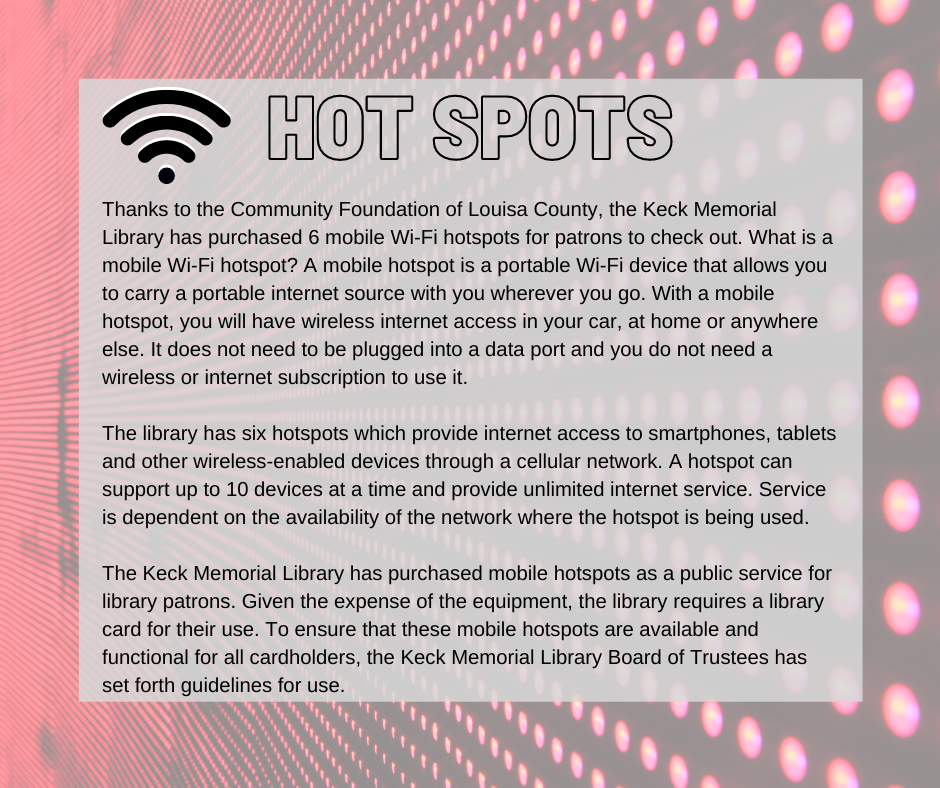 Who can check out a device?
Anyone over 18 that has a valid library card in good standing. One mobile hotspot per household address.
Where can I check out a mobile hotspot?
Mobile hotspots are held at the front desk of the Keck Memorial Library. Hotspots cannot be placed on hold. They must be checked out and the user will sign an agreement. Hotspots should be returned to the library the library
How long can I check out a hotspot?
Mobile hotspots will check out for a period of two weeks (14 days).
Can I renew?
Hotspots are not able to be renewed.
How do I return the mobile hotspots?
Mobile hotspots should be returned in-person to front desk at the library. Staff will inspect the hotspot and its accessories for condition and missing parts.
What if I have the mobile hotspot past the due date?
You are responsible for each day that the mobile hotspot is kept past the due date. If the device is not returned the Library will shut down the connection, which will make the device unusable.
What information about my internet usage, if any, is tracked by the library or the service provider?
Your internet usage is not tracked by the Library or the service provider.
Is the mobile hotspot secure?
Hotspots are unsecured, wireless networks and any information being sent or received over the network could potentially be intercepted by another wireless user. Mobile hotspot borrowers are cautioned against transmitting their credit card information, passwords and other sensitive, personal information while using any wireless network, and do so at their own risk.
Is the mobile hotspot filtered?
The mobile hotspots are not equipped with any Internet-filtering capabilities. Borrowers are entirely responsible for any content accessed through a mobile hotspot. Mobile hotspot borrowers are responsible for protecting children from inappropriate content. Mobile hotspot users should refrain from online activity that violates federal, state, or local laws.
How much data can I use?
The mobile hotspots are on unlimited data plans managed by the Library.
How much does it cost?
Borrowing and using the device is free! However, users will be responsible for late fees and replacement costs if the devise is lost or damaged.
Can I use the hotspot when I travel outside the United States?
No, the hotspots only work in the U.S.
For more information, contact the library at 319-523-5261